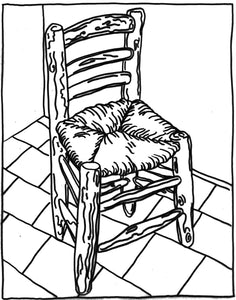 Van Gogh and the Chair Challenge
The Van Gogh Chair Challenge.... it's about time right! Kirsten had the great idea to describe the project and really broadcast here in the blog!
Firstly, this challenge is Barbara's idea, and below is the original post from our Facebook group (Rug Hooking & Punch Needle Club): 
This challenge is inspired by Deana's presentation on Van Gogh and one of his paintings, "Van Gogh's Chair," 1888. "Van Gogh's Chair" is considered to be both a still life and a self-portrait. The chair is made of wood and rusk representing a person of modest means and the pipe and tobacco on the seat are personal to Van Gogh who enjoyed smoking for pleasure and for relaxation.
Using your favorite method of hooking, create an image of Van Gogh's chair (pdf provided) and personalize it with something meaningful to you or with something representing the area where you live (eg. state flower or flag). Alternatively, create an image of your favorite chair and personalize it with something meaningful to you. Choose a size that is comfortable for you to complete by September 17. Let us know, in the comments below, if you wish to participate or if you have any questions.
As you know, Deana is interested in attending the "Van Gogh: The Immersive Experience" when it comes to her area. It is touring major cities world-wide. She would like to arrange an exhibit of our completed rugs in a museum or library. Would you be willing to submit your rug? This will be further discussed in a Coffee Time.
Some links to explore:
YouTube: Van Gogh: The Immersive Experience
So! The idea is that while this monumental Van Gogh experience exhibit is touring the world, we work parallel to it on our Van Gogh exhibit. You are free to work in any rug making style - hooking, punching, Russian punch, latch, locker. And of course you can work in a very literal style, or a whacky way-out style. I'm playing with the idea of doing a seasonal quartet. Van Gogh liked thinking about the seasons. He painted and then re-painted the Church where his father was minister; he repainted it from being a winterscape to a springtime setting.
The painting was a gift to his mom while she was recovering from an illness. I don't know the reason he decided to return to an earlier piece and rethink the season, but it brought to mind how important setting is. The cycle of the year turns, and all the little signs and symbols, buds and snowflakes, rusty leaves and red sunsets - can't help but put you into not only a place but a time. 
I mentioned in both class and Cocktail Time how much Vincent's hiking boots meant to him. They were the equivalent of a bus pass or a bicycle. He walked long distances to exercise, longing to quiet his mind, longing for something to see. He visited remote little towns and shores, bringing his plein air paintbox with him. As a result we have, in his vast collection of work, odd, fast paintings of taxidermy animals from local museums, and small views.
Glimpses through bushes and down glades and between tree trunks. We have paintings that are flecked with sand that stuck to wet paint when the wind whipped.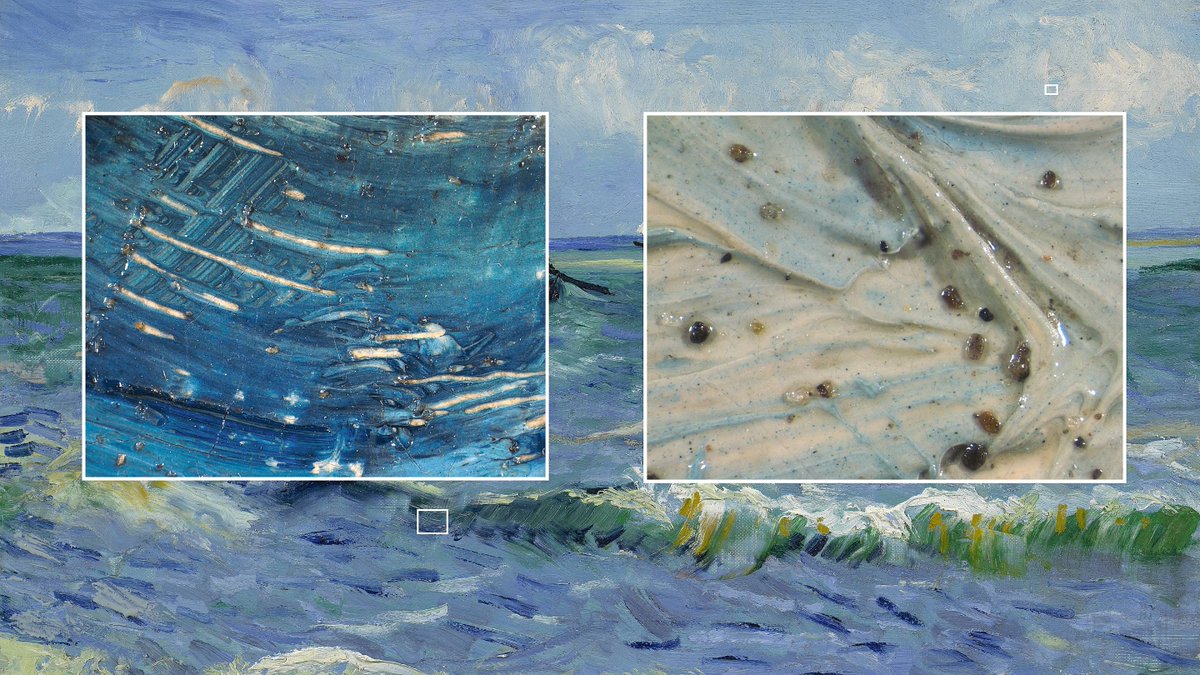 All part of his story. He longed for purpose, for religion, for meaning, for love he never got. When I think of what a tortured soul must look like I think of him walking endlessly in his boots. It's not wonder he painted them in candlelight, so worn and so familiar. They weren't another prop like sunflowers or a coffee mill; they were a diary of all the places he'd been.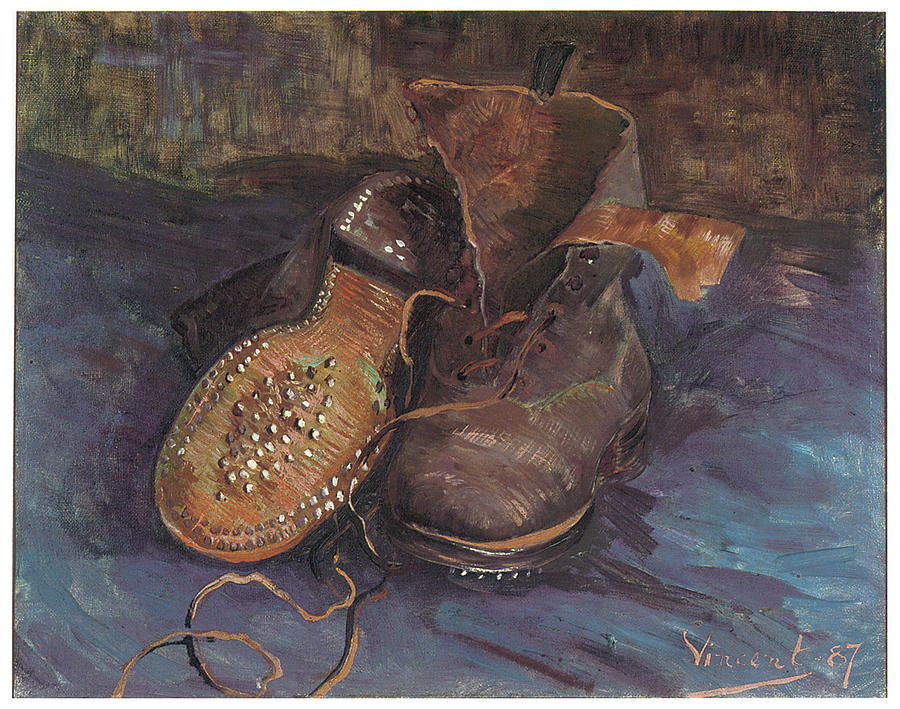 One of the reasons I used this chair in our Van Gogh class was because it reminded me of Norman Rockwell's 'Spring Flowers'. I've seen this painting many times at the Norman Rockwell Museum in Stockbridge, MA, and listened to the guides (who are his child models all grown up now) talk about how this chair in the garden shed was as good a portrait of Norman's wife, Mary, as ever there was. She'd stepped away for a moment and left so many hints of herself behind... Norman found it to be a perfect subject, and enough said. Mary was the love of his life.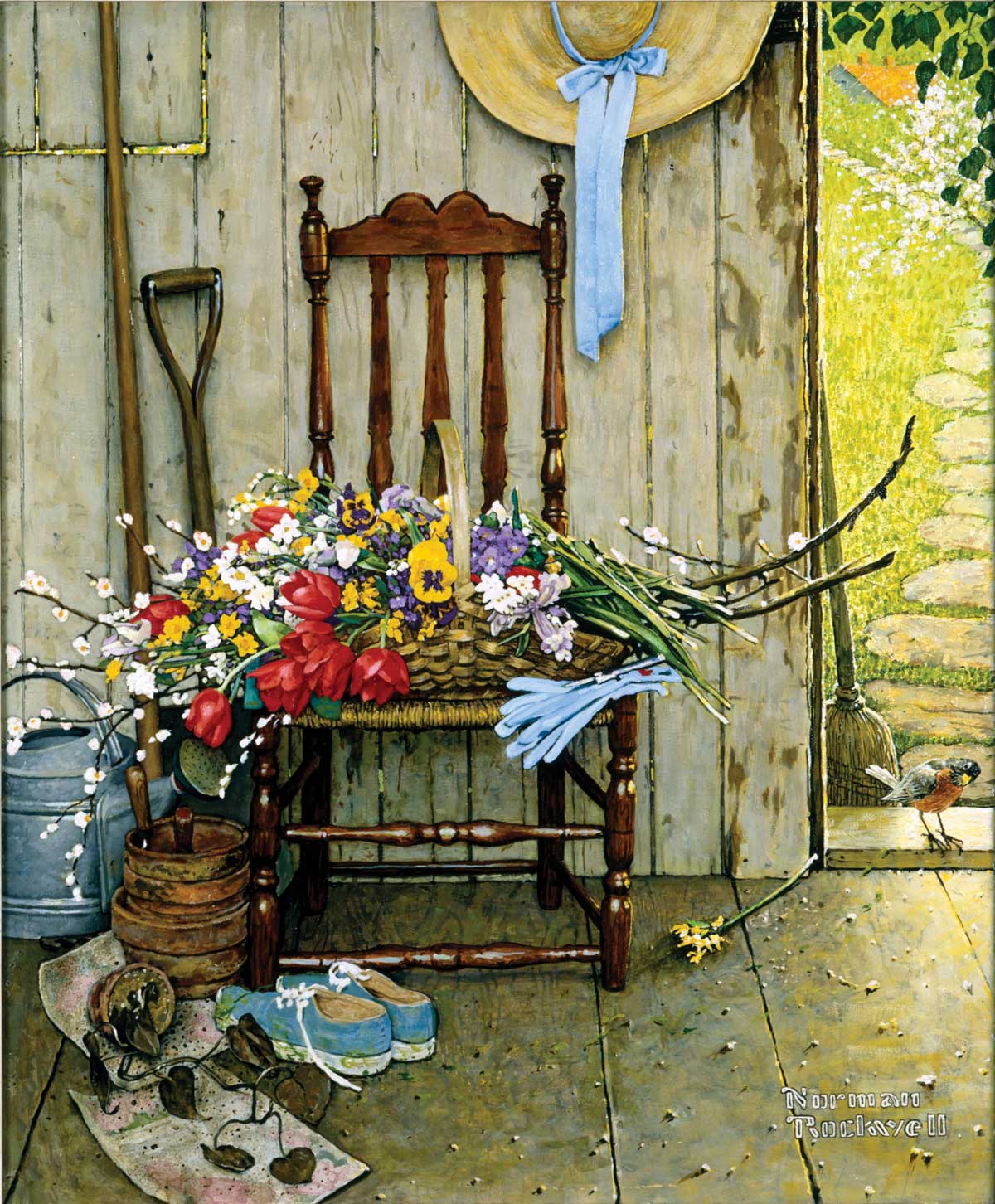 So, the idea of a chair without a seated figure is nothing new. But it's tantalizing all the same. Will you chair support a seated figure? A person? A fur person? Someone you know, someone you've met? Or things? Van Gogh's original painting of his Chair, shows you signs of himself - just like Mary's garden. As always, Vincent shows you want he wants you to see - in this case his pipe and tobacco, nothing else. 
When he painted Gaugin's chair, for Gaugin was his roommate, he added things to the chair that represented Gaugin's personality and interests... bookishness and reading by candlelight.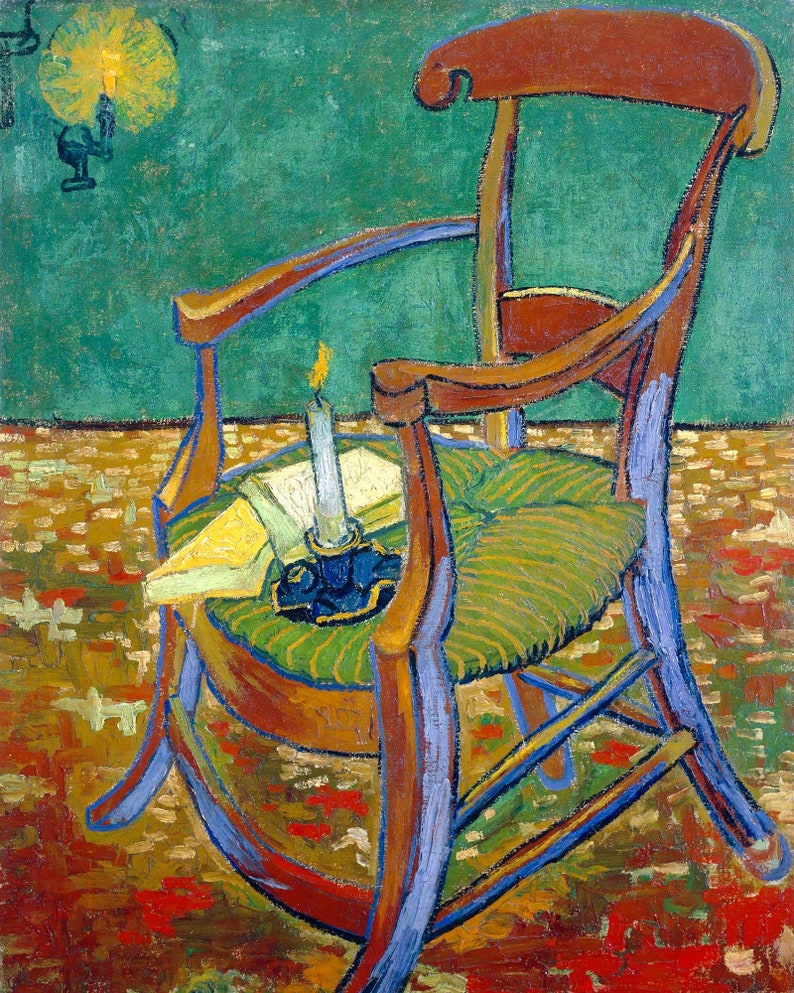 Isn't a chair a funny vehicle for a still life? We see objects set out like vignettes on tables and windowsills, but using a chair instead implies more. It implies the objects are about to be used, taken up, by the owner. It implies action, ownership, movement, and conversely the lack of movement. There's something resting about looking at a book on a chair with a candle. Just like Mary's garden shed, you can't help but imagining that, at any moment, the person will come back and occupy the chair. Interesting, isn't it. Better than a mantle or a kitchen table. There's more of a story with a chair somehow. 
Maybe you will decide it's not about the chair, and nor is it about using the chair as the setting of a still life. Maybe you'll decide it's about something beyond the chair, out a window you create, or something fallen under the chair. Maybe it's exactly about the chair... look at what this etsy artist, Artisinal Chairs, is doing...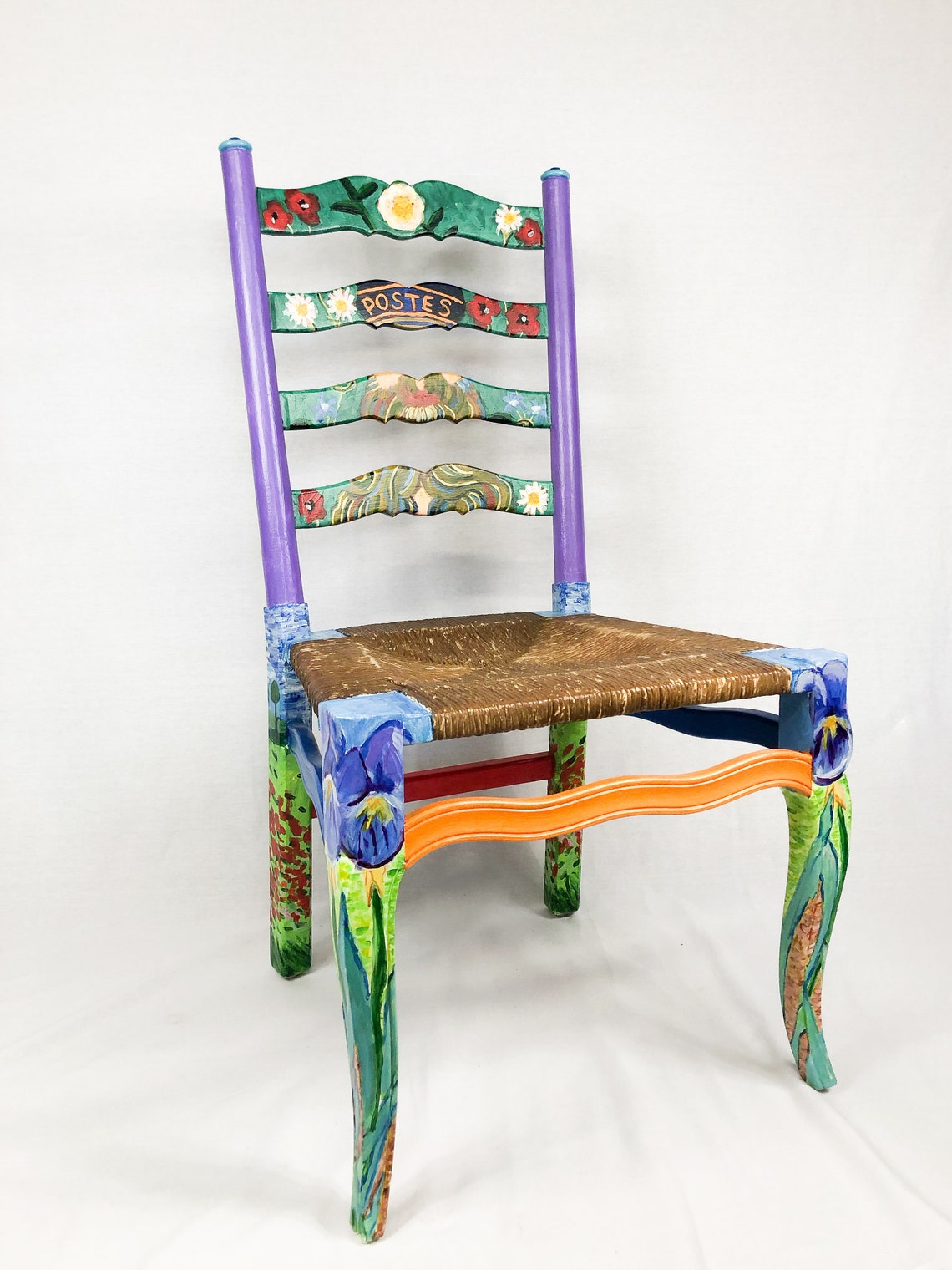 This idea changes the physical idea, which is great angle, too. Maybe the chair is very out of place, not forever caught in Vincent's studio room, but in your living room, with your wallpaper behind it. There are so many ways you can go with this. Van Gogh's work is copyright free, so you are free to be as literal as you would like. If you make a huge departure, that's perfect too. The idea is that we're thinking about Van Gogh and building on one of his images using our shared medium. 

In the meantime, I'm writing to galleries and looking for a place to hang the exhibit. It will be a virtual, online challenge, but I am also fielding a venue where (if you'd like to forward your piece to me) you can trust me to get it hung and return it to you afterward. I would love it if our exhibit traveled. How nice would it be to box the rugs and forward them to one of you, in another part of the country/ world, and know that you're taking up the torch and hanging them someone else for a new group of people to enjoy. These could be some busy. well-traveled rugs! But really, isn't it nice to be a part of something. We have this wonderful, literally full of wonder, wonderful thing in common, and we're all part of it. 
Working deadline for Chair project: November 30
Van Gogh: 
'For my part, I know nothing with any certainty. But the sight of the stars makes me dream.'
---
3 comments