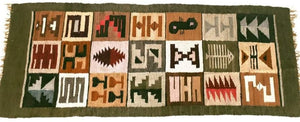 Mystery Rug Contest!
Mystery Rug Contest from Coffee Club Wednesday September 8, 2021
What IS it about this rug? It's like another language, another world. I've been searching for these symbols and even the origins of this rug design. So I've decided to turn it into a contest. How many of the following symbols can you identify? There are a total of 21 blocks. The person who solves the most squares before midnight EST on Sunday September 12 will win the prize shown below. 
But first, here are the blocks...
Do you recognize any of those? If you do, write your answer to ribboncandyhooking@gmail and if you have the most answers, you will win the Halloween Charm Square set shown below... a set of 6 11" Dorr wool squares:
GOOD LUCK DECODERS!
---
1 comment