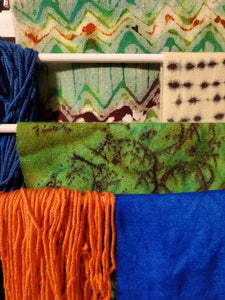 Count-down to February Kit!
Working on February kit... Klimt's the Kiss.
It's been fun dyeing for this and doing some Stop-me-before-I-kill-again wool painting. Look how easy it is to painting with hairdresser squirt bottles. Fun!!! And coming soon! With the help of Pitterpat (not for sale), the kitty you never see.
Here are some pictures of the creative process:
(not included in the kit, also the fuzzy white area is a trap)
---
2 comments