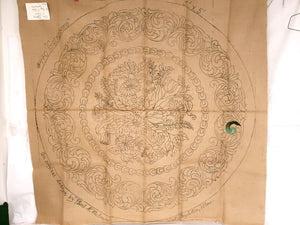 ANOTHER BOX of Vintage Patterns....
So instead of moving to the studio space across the way I decided (last minute) to stay in my space. It's super, super large I was reluctant to take the whole thing/ expense over on my own, but I AM. I was too worried about the other landlord and the actual bills involved and felt it was better in the end to stay with the known, rather than the unknown. I am rejigging a 4 regular ones and one vast one, and in the process kicking up a lot of stuff. This NEW box of patterns is one of those kick-ups!
If you like any of these let me know and I'll invoice. I'm shipping all the vintage patterns this week. In the future, I'm sure I'll find more treasures in my rooms but I want to settle up with everything and then start anew when I'm back from the Cape. 
15 - Gainsboro - Pearl McGown - 5 foot x 5 foot $50
17- Joan Moshimer Pineapple Threshold 22 x44 PLUS 2.6 pounds of the wool to complete it cut into #4 strips $95
18- Two Pearl McGown leafy sweet pieces - just started $15
19- Four Pooh characters $15
20- Two Liberty Bells $10
21- Daffies, 3 Tile Floral, Portrait - three pieces $10
22- Ibraham Bell Pull $20 - Pearl McGown
23 - Giant Horse Head - unknown brand *I have magazine color clip I'll put in with it - looks like an Aunt Lydia or something like that 53 x 34 $25
24- Jenkins Antique - Pearl McGown - started with cool, tweedy wool 33.5 x 62 $25
25 -Pearl McGown Pelham Diamond 36 x 69 $40
26- Pearl McGown Oriental Screen 17 x 64 $45
28 - Oriental Screen II 17 x 64 - Pearl McGown $45
---