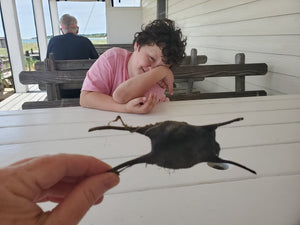 The Devil's Purse
If you saw Coffee Time this morning you know I'm trying to work out a pattern I can hook as a gift for my brother-in-law. He's a German with a strong Irish accent because he learned English in Ireland. He's curious about EVERYTHING, loves kitschy U.S. history, roadside motels,  cocktails from Chinese restaurants, old time beach resorts, the Superman skyscraper in Providence, vinyl records... and he's very VERY interested in my hooking projects.
I've given him a hand knitted sweater that says 'Heavy Metal', a handmade ukulele, an album of vintage motel postcards, and now I'm hitting a wall. I noticed that when we go to the Cape he always buys a local beer called Devil's Purse. Turns out a Devil's purse is a little shark egg that often washes up on Cape Cod beaches often. Sounds disgusting and certainly my son Teddy is a bit traumatized by these little pouches, imagining they're filled with larvae or banshees. They're sometimes called Mermaids Purses... and they pop a big pop if you find them recently washed up and dry. Isn't the ocean exciting? All the gifts and mysteries of the sea!

This pattern doesn't look like much now but I am color planning while looking through a wine glass at a video Teddy's insisting I watch.  And the colors look fabulous! Tentacles crossed its going to come out good and be a winning gift! Although it's hard to beat an album of vintage motel postcards! 
Incidentally, this is the second pattern I'm using in the Hooking/ Punching Classes I'm giving at Salt Yarn in Dennis, Cape Cod. I needed a second pattern that had a seaside flavor, that was pretty geometric and gender neutral and I think this is IT!!!!
---
1 comment