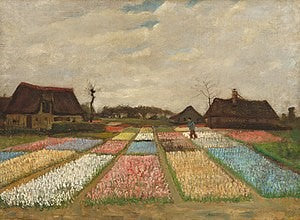 Dutch Flower Fields class - a Mother's Day Event
This weekend was rough. Isn't Springtime supposed to be filled with gentle breezes, little crocuses and daffies springing up in the grass as I step? Cinderella birds twittling around my head, songs like 'Lavender's Blue' dilly dilly?
Well, I tried to hunker down. Working on orders is a godsend during rough times; it makes me feel like I'm really building something. I'm a mom AND I have something of my own again. And it's something I love, so that's a Huck Finn life raft for sure. (Moon River, wider than a mile, I'm crossing you in style, someday...wherever you're going, I'm going your way... we're after our same rainbow's end, waiting 'round the bend, my Huckleberry friend). What I mean is I love working on orders, and on Coffee Times, because I feel like we're together, working on the same things and thinking about the same things. There's so much happiness in feeling connected, across the miles and across the emptiness of the last year. 
So, I needed to come up with another dye class offering, and a few other things I like to roll out regularly. I have so many ideas of dye class themes, as I want to continue to offer full kits, with everything a person needs, almost like a subscription. I still subscribe to a bunch of magazines, mostly because it's so much fun to get something in the mail. Everything is too online and too abstract these days. You have to forage to find nice, tactile things to hold in your hands. 
In the end, with it being Mother's Day, I went with a Dutch flower fields theme. My mother had me in the Netherlands, and I had both my kids in the Netherlands. I lived there so long I became triggered by every aspect of life, particularly the social (or lack of). The absence of smiles, chatting, friendliness.... the lack of working elevators and awnings, standing in the constant rain at tram stops with a double baby carriage (then finding that when the tram arrives it has steps so I can't board anyway) (or it's full and the driver just gives the thumbs down as he blows by). 
One of the best days I had when I was living in the Netherlands was the one I took a daytrip with my upstairs neighbor. We packed up little Teddy, (Jocelyn wasn't even a twinkle in my eye yet), and drove to Scheveningen, the town where I was born. It's a seaside town, not particularly charming but with an abundance of the little antiquated snack shops where you walk into a room the size of an elevator, put coins into a slots that look like post office cubbies, and pull out a hamburger, or a cheese pasty, or shrimp croquettes.
We found our way to the street where my parents had lived in 1972. My mom lived a similar life to what I would live more than 30 years later; rain, shops running out of the nicest foods early in the day, other women scowling or not making eye contact at all, general dreariness. The house, when we found it, was a tall, stately building (just exactly like it was the hundreds of times I'd seen it when we used to have Friday night slideshows growing up). It had bump-out windows, and leaded glass, and when I peeked into the window (it was empty), it was VAST. Beautiful old world European. It looked like a room in the Louvre. It looked like it should have had a Rembrandt over the stone fireplace. The only thing missing was the floor, since the Dutch always take the floor with them when the move. Yes, the actual floor. 
I was so happy that day because I'd already spent years living in the Netherlands and trying to figure out what exactly it was about that place that my dad loved. I never got to ask him. When he died, I'd not yet been back to Netherlands. And when I did go, I was so underwhelmed, I found it unimaginable that he could love anything about it. The place just wasn't him. But on that little cul-de-sac with a bunch of other grand old world homes, I could just about see him hopping off the bus and seeing my mom in the upstairs window. She would have already dealt with the challenges of food and trying to ask for cigarettes in Dutch from people who corrected your pronunciation in English, without a smile. the landlord who came and went with his key, as if the place was empty, would have already come and gone, without knocking, a number of times to turn down the heat -- without acknowledging my mom being right there in the apartment. Put it down to cultural differences, I guess. 
While I am a huge fan of old world charm, and croquettes, I am so glad to be back in New England. But I do miss the flower season in Holland which, as you can imagine, has been big business since the 17th century. Look at the image I attached to this blog - that's a Van Gosh painting, believe it or not. A very hometown piece for him, since he was Dutch and yet mostly associated with French poppies and sunflowers. His colors in this painting are a lot more muted than the flower fields really are. It seems like he refrained from packing his usual COLOR PUNCH when he painted this. Even the sky is dreary, and casting a blueish tinge on flowers that surely most be electrically bright. And we know he could paint BRIGHT, so this feels like a curiosity and a maybe a metaphor to me. 
Anyway, in our class, you'll receive five BRIGHT tulipmania colors. But I can't just leave it at that because - Vermeer! Think about all those gorgeous costumes, the light coming through the windows on woman in hyacinth dresses with pearl earrings. And checkerboard floors that would make MacKenzie-Childs cry themselves to sleep. So, you'll receive three of the 'dour Dutch' colors' to temper the bright flower shades. Because it's impossible to have something truly bright and beautiful without something darker and drearier to pop it. Dark, light, dull, bright. It's the mantra for rug hooking, and also for life. 
I hope to see you on Mother's Day in this fun, no-pressure class. You'll end up with 4 full skeins of yarn to hook or punch and 4 long quarters of colored Dorr. It'll be up to you which colors you want to use, and whether you want to add mottling or effects, or overdye, or anything you like. My classes are always about learning the basic skills and then you running with it. I've been putting off Dutch themes, Dutch subjects, really thoughts of anything Dutch. But, hey, it's Springtime and now I have you, and we can do this together!
https://www.ribboncandyhooking.com/products/the-dutch-palette-wool-and-yarn-dye-zoom-class
---
4 comments